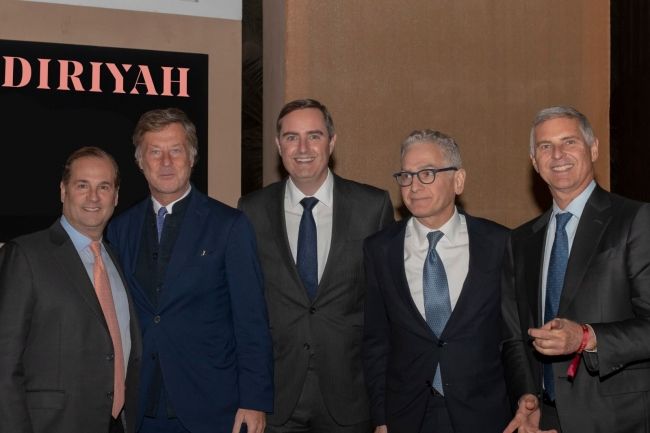 CEOs from World's Six Biggest Hotel Operators Meet in Riyadh
• Hilton, Marriott International, Hyatt, Accor, IHG and Radisson Hotel Group set to help design a better future for tourism at 22nd WTTC Global Summit
• Digital systems, sustainable processes and expansion strategies set to dominate dialogue on the vision for a better future for hotels
Riyadh, Saudi Arabia: 29th November 2022: Senior executives from some of the world's largest and most powerful hotel chains and operators will be participating in the forthcoming 22nd World Travel & Tourism Council (WTTC) Global Summit being held in Riyadh from 28th November to 1st December.
Their presence at the most influential tourism and travel meeting of the year demonstrates the vital role the hotel sector plays in helping to design and implement a roadmap for the wider industry to travel along to a better future.
Six of the world's biggest operators – Hilton, Marriott International, Hyatt Hotels Corporation, Accor, IHG and the Radisson Hotel Group – will have their CEOs present at the event. Together these six brands manage over four million hotel rooms worldwide.
Participating will be Hilton President and CEO and former chairman of WTTC, Chris Nassetta, the CEO of the world's largest hotel group, Anthony Capuano of Marriott International, Hyatt Hotels Corporation President and CEO Mark Hoplamazian, IHG CEO Keith Barr, Accor Chairman and CEO Sébastien Bazin, and Radisson Hotel Group CEO Federico J. González.
Speaking on behalf of the host nation Saudi Arabia, Minister of Tourism, HE Ahmed Al Khateeb, said: "The participation of leaders from the world's largest and most influential hotel groups at the Riyadh Summit reflects a strong commitment to the future of the travel and tourism industry both in Saudi Arabia and globally. The event will provide a platform for collaboration, highlighting the thriving growth opportunities in the Kingdom, with hundreds of thousands of rooms to be added between now and 2030."
They will be joined by other senior hotel industry executives including Gibran Chapur from Palace Resorts of Mexico and Gloria Fluxa Thienemann of Spain's Iberostar Group and Melia Hotels International CEO Gabriel Escarrer.
Chris Nassetta, President and CEO, Hilton, said: "I am delighted to speak at the WTTC Global Summit in Riyadh and come together with industry colleagues to discuss our journey to a better future in this new golden age of travel. Hilton's presence in Saudi Arabia will grow significantly in the coming years to more than 75 hotels – as we expand with new brands into incredible new destinations. I would like to congratulate WTTC and the Saudi authorities on staging this momentous summit and for the incredible progress being achieved for travel and tourism in the Kingdom."
Marriott International CEO Tony Capuano said: "We are pleased to be part of the World Travel and Tourism Council (WTTC) Summit to celebrate the power of travel and our industry's tremendous resilience. A thriving travel industry catalyzes growth, investment and opportunities, creating future-ready jobs that have a high potential for advancement in both established and emerging markets. Working together to strengthen travel and tourism allows us to be a force for good in communities around the world. Thank you to the Kingdom of Saudi Arabia and WTTC for hosting this important dialogue."
Federico J. González, CEO Radisson Hotel Group, said: "Radisson Hotel Group is fully committed to powerful destinations like the Kingdom of Saudi Arabia, where we have built a presence of 45 hotels in operation and development over the last 20 years. We are proud to support the ambitious and innovative tourism vision of the government to provide new jobs, boost local economic prosperity and develop a sustainable tourism industry in the country."
IHG CEO Keith Barr said: "People have an inherent desire to explore the world, relax and visit friends and family as they seek connections and new surroundings. Meanwhile, businesses need to meet face to face, and events still need to be run. At IHG, we are well positioned to continue creating memorable experiences for our guests whilst operating in the right way and investing in what we know will be a bright future for our owners, colleagues and our industry.
"As we grow, we remain committed to the communities we operate in, especially in exciting, emerging destinations such as Saudi Arabia, where we can help facilitate sustainable tourism, provide new jobs with progressive career paths and boost local economic prosperity."
Collectively these six leading hotel groups have 43,500 new hotel rooms in the pipeline for Saudi Arabia.
Hilton has announced plans to open new 46 new hotels to take its Saudi portfolio to 75 properties over the coming years with 18,650 rooms and creating 10,000 more jobs.
Marriott International will add to its existing 36 properties and 10,000 rooms and is planning 35 new properties including properties in the Red Sea and Diriyah Gate and introducing new luxury brands into the market such as St. Regis, EDITION Hotels and the Ritz-Carlton Reserve and creating 6000 new rooms in Mecca and Medinah.
Hyatt meanwhile anticipates delivering 80 per cent more rooms to its portfolio in the Kingdom by late 2025 with the expected additions of Park Hyatt Riyadh Diryah Gate, Grand Hyatt the Red Sea and Mirava The Red Sea, the luxury wellness brand's first resort outside the US.
Accor currently has 43 hotels in Saudi Arabia with 16,650 rooms and has 21 hotels planned to offer a further 4,274 rooms to the end of 2024. The IHG pipeline includes 28 hotels that will add over 10,000 rooms to the Kingdom's supply in the next two to three years and anticipates opening over 10 new hotels this year.